Shiloh's puppies (pictured here and individually, below; scroll down to see them) are now all SOLD.

(hit center "play" button to see slideshow) The beautiful photographs above were taken by Teresa Creech photography. Teresa brings a depth of creative artistry that is rarely seen into her work. She is a very talented professional that is fun and delightful to work with. We highly recommend her!

ANNOUNCING OUR NEW LITTER...SHILOH VOM ROCKSHADOW X GRANITE HILL ODEN, whelped 4-2-16 (ALL SOLD)

Our German Shepherds are our pride and joy. They are born in our home and socialized as part of the family. We have world class imported German bloodlines (please see pedigrees below). We have had no hip dysplasia in any of our dogs. Feeling that BOTH the working ability (courage, temperament) and show quality are equally important, you will see both SchH titles and V ratings throughout the pedigrees below. This beautiful litter will be raised with lots of love and affection, socialized with livestock and other animals, and spoiled with goat milk and cheese in addition to their puppy kibble. The puppies will be AKC registered and have had their first shots and a couple wormings. $1100. (male or female) Full (not limited) registration. Schedule your private viewing now and come check them out!

PARENTS of our new litter of puppies whelped April 2, 2016 are SHILOH VOM ROCKSHADOW and GRANITE HILL ODEN (see 5-generation pedigree below). These two pictures are of Shiloh. Shiloh received an "Excellent" hip rating. She is a beautiful girl. Both she and Oden have calm, confident temperaments, with the loyalty and devotion we love to see in Shepherds.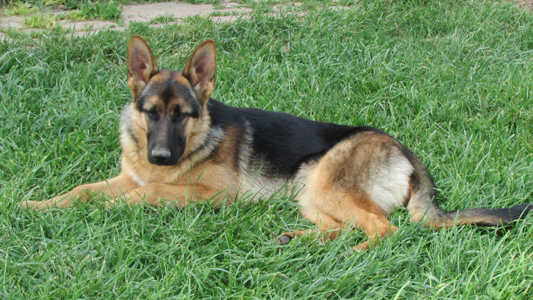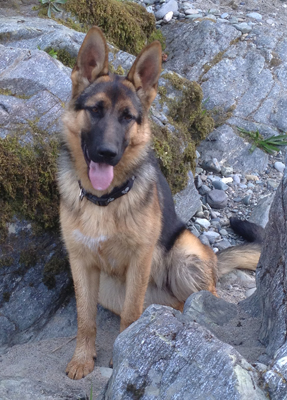 Shiloh with her new puppies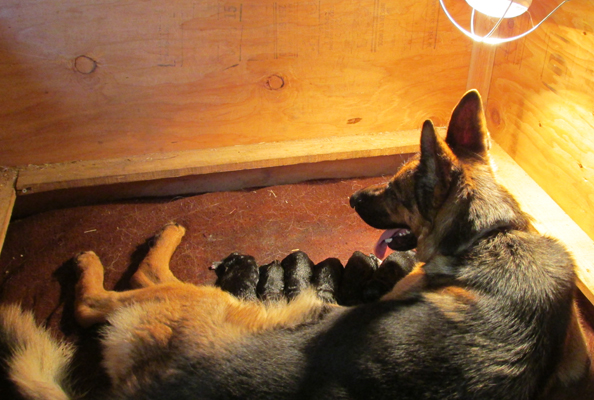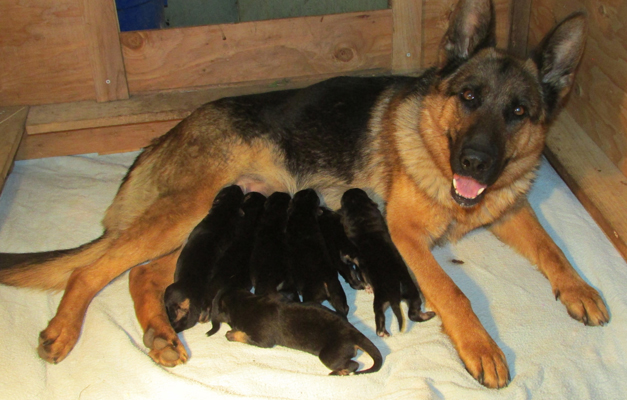 Below: 2 weeks old, pictures taken April 14, 2016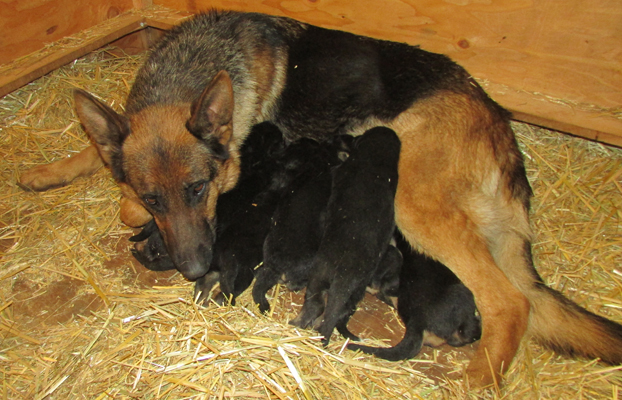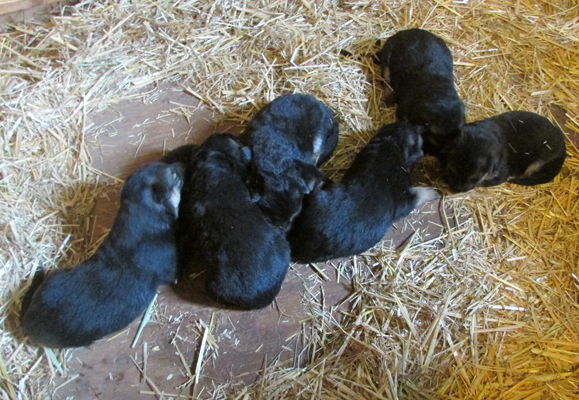 Below: 4 weeks old, pictures taken May 1, 2016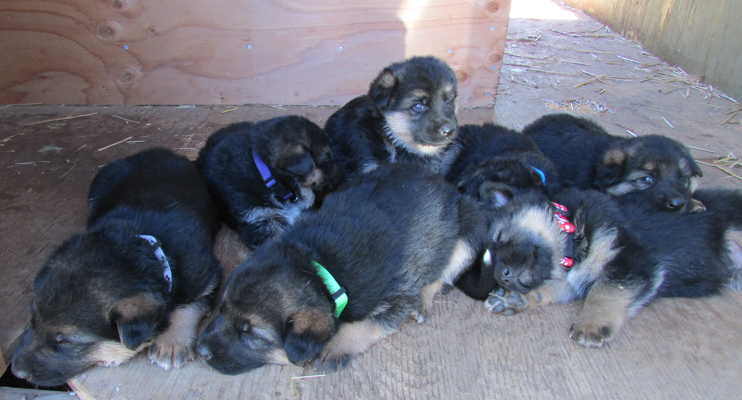 Below: These are the four males (blue, black, red, grey collars).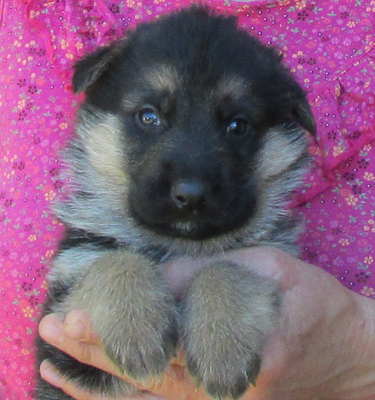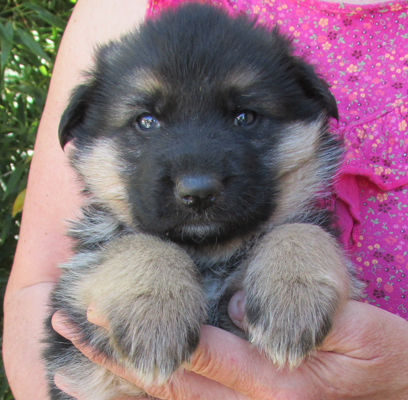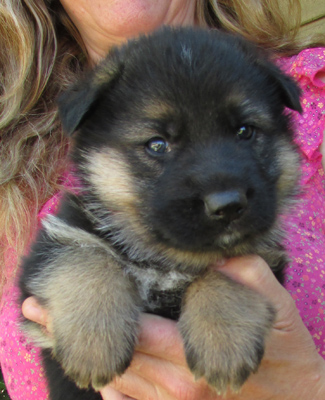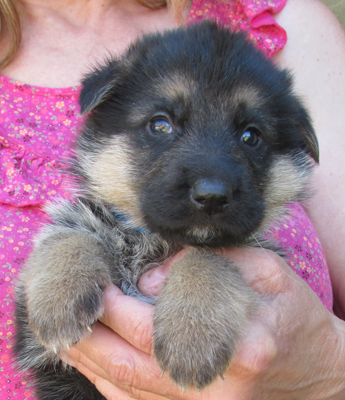 Below: These are the three females (purple, black, green) collars).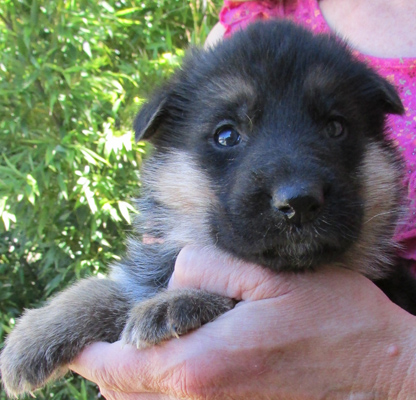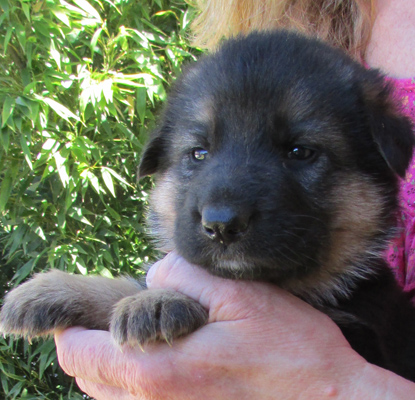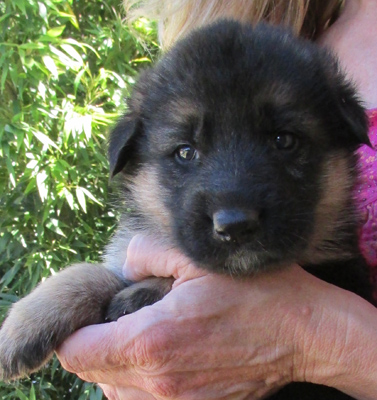 Here are some pictures of Oden. (owned by Granite Hill German Shepherds). He and Shiloh both carry the rich deep red pigment prized by many German Shepherd enthusiasts. (Check out these photos, and Shiloh's sire YASKO in the illustrated 5-generation pedigree (below)!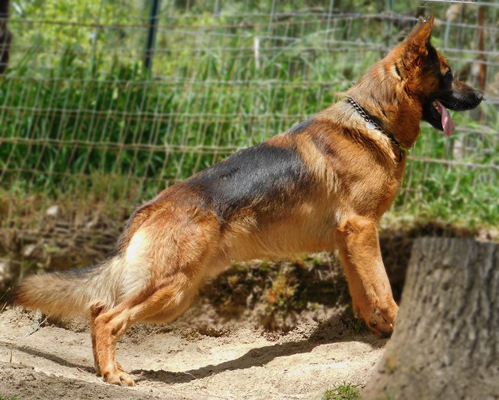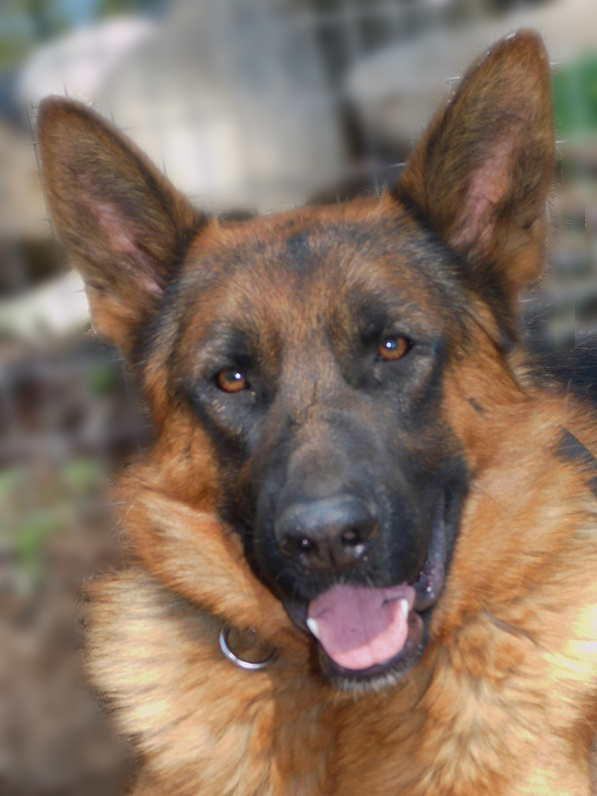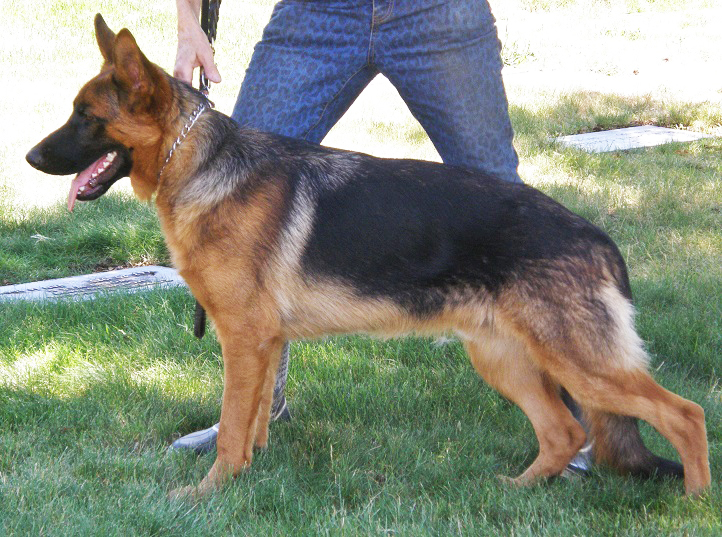 Here is the puppies illustrated 5 generation pedigree. As you scroll down, you will see the puppies' grandparents in the far left column, with their parents in the next column to the right, and so on. The top half of the pedigree shows the background on the puppies' sire Granite Hill Oden, and the bottom half is for the background of the puppies' dam, Shiloh vom Rockshadow.
Key to German titles and symbols:
SG - Sehr Gut, Very Good; V - Vorzüglich, Excellent; VA - Vorzüglich Auslese, Excellent Select (title awarded at the Annual Sieger Show select class).
SchH, IPO - Schutzhund / Protection dog 1, 2, or 3: Certified in obedience, protection, and tracking. FH - Tracking dog; PH - police dog; HGH - Herding dog; BH - Basic obedience

Grandparents (scroll down)
3rd generation back
4th generation back
5th gen. back


UKC / INTL CH RINGO VON EL TOUS

Hip: A Normal; Elbows: A normal







V Tyson vom Köttersbusch
SCHH3 SZ 2175542
Hip: SV: HD a-normal (a1)






VA2 Quenn vom Löher Weg

SCHH3 FH, SZ 2119344
HD-SV: HD a-normal (a1)


V27 Uran vom Moorbeck
SCHH3 SZ 2058750
HD-SV: HD a-normal (a1)

V Elsa vom Kuckucksland
SCHH2 SZ 2038495
Hip: SV: HD a-normal (a1)

V Romina vom Köttersbusch

SCHH3 SZ 2117678
Hip: SV: HD a-fast normal (a2)


VA1 (CN) V14 Whisky vom Bierstadter Hof

SCHH3 SZ 2062851
Hip: SV: HD a-normal (a1)


VA2 Qualli von der Flur

SCHH 2 SZ 2071353
Hip: SV: HD a-fast normal (a2)

Crin von El Tous
SCHH 1 SZ 2182814
Hip: SV: HD a-normal (a1)







VA3 Esko vom Dänischen Hof
SCHH 3 SZ 1998887
HD-SV: HD a-normal (a1)

VA2 Jango vom Fürstenberg

SCHH 3, SZ 1896845
Hip: SV: HD a-normal (a1)


VA31 Una von Oxsalis

SCHH 2 SZ 1904966
HD-SV: HD a-normal (a1)




SG Wirga von El Tous
SCHH 1 SZ 2113132
HD-SV: HD a-normal (a1)

2X VA1 Larus von Batu

SCHH 3 SZ 2062960
Hip: SV: HD a-normal (a1)


V Helmine von El Tous

SCHH 2 SZ 1990835
Hip: SV: HD a-fast normal (a2)


INTNL/UKC CH Sugovicai Bacsor Cendy
AKC DN31363401

Hips A stamped - Hungary



VA8(A) Manto II di Casa Mary
SCHH3, Kkl 1, LOI 99-191656, Hip: SV: HD a-fast normal (a2)


Sindy vom Kapellenberg
SCHH1, Kkl 1, SZ 2022347
Hip: SV: HD a-noch zugelassen (a3)


VA1 Barbie von Bellissimo
IPO1, DNA, Kkl 1, SZ 9131516
Hip: SV: HD a-fast normal (a2)


2X VA(HU) Randa von Oxsalis
SCHH2, Kkl 1, SZ 2068309
Hip: SV: HD a-fast normal (a2)


VA1 Zamp vom Thermodos
SCHH3, Kkl 1 SZ 2101021
Hip: SV: HD a-normal (a1)


V1 Noscha van Contra
IPO1/ ZW: 77/ HD ED:NORMAL (SV), Kkl 1, 5466 02
Hip: SV: HD a-normal (a1)


V Remus Gero
IPO1, Kkl 1, SZ 9111772
Hip: SV: HD a-normal (a1)


V Trinity v. Contra
SCHH1, Kkl 1, MET 863900
Hip: SV: HD a-normal (a1)



Yasko vom Gold-Berg

DN 2522500
















SCHH3
V Bastian vom Real Favorita
SZ 2232094
HD-SV: HD a-normal (a1)

2008 and 2009 World Sieger!

SCHH3
2X VA1 Vegas du Haut Mansard
2004
SZ 2164725
HD-SV: HD a-fast normal (a2

2007 World Sieger

VA1 Pakros d'Ulmental
SCHH3, SZ 2138739

VA2 (F) Rangoon du Haut Mansard
SCHH3, BREVET
LOF 527930/45533

SCHH3
V Roma vom Holtkämper See
2001
SZ 2091920
HD-SV: HD a-normal (a1)


VA6 Wallace aus Agrigento
SCHH3, SZ 2017496


V Wari vom Holtkämper See
SCHH3, SZ 2046950

SCHH1
V Mica vom Gold-Berg
2004
AKC DN10274701
HD-OFA: Good


SCHH 3
V Boss vom Elzmündungsraum
2000
SZ 2075106
HD-Normal

V1 SG6(BSZS) Wallace aus Agrigento
SCHH3, SZ 2017496
HD-SV: HD a-fast normal (a2)

V Quinta vom Elzmündungsraum
SCHH3, IP3, FH1, SZ 1978390
HD-normal

SCHH2
SG Quasti vom Hanneß

V35 Baru von Haus Yü
SchH3, SZ 1972084
HD-SV: HD a-normal (a1)

SG Eva vom Hanneß
SchH3, SZ 1926006
HD-fast normal

Destiny Vom Rochshadow

DN22576701

Black & Red








SCHH3 Kkl 1

DN/05446801
HD-SV: HD a-normal (a1)



SCHH3
V Idol vom Brenzarm
2000
SZ 2063154
HD-Normal


VA2(S) SG4 V14(BSZS) Valium von Arminius
SCHH3, SZ 1983105


V Dixi vom Brenzarm
SchH2, SZ 1971639

SCHH1
V Déjà Vu von Waldhimmel
SZ 0013182
HD-SV: HD a-normal (a1)


Picture of Deja Vu goes here.
To see her photo, click here


VA1 CAN SGR Hillo de Marne la Vallee
SCHH3, SZ 1944658

SG Maxi vom Wiesenborn
SCHH 1, SZ 1944862




DL89377513 (06-05)

Black & Red


SchH3, Kkl 1
V-Zito vom Badener-Land
1872278
Hip: normal


VA3 (I) Zito von der Noriswand
SCHH3, FH, SZ 1782231
HD-Normal

V-Quena vom Badener-Land
SCHH1, Kkl 1, SZ 1782290
Hip: normal


SchH3, 1PO1, KKl "a" noch zugelassen
V1 (Holland) (US) Enschi von der Mäusespitz
SZ/2014045


VA8 Fello vom Farbenspiel
SchH3, Kkl 1
Hip: SV: HD a-normal (a1)


V Teiga von der Mäusespitz
SchH3, SZ/1953055, HD normal

ALL SOLD: Valentine's day puppies whelped February 14, 2016
Kischa vom Treuen Wachter x Prescott's Sherman
| | |
| --- | --- |
| We have raised German Shepherds continuously since 1983; however, some of the German import lines we have today go back 5 generations to our V-Briska von Fidelius SchH I, imported from Germany in 1994 (see bottom right corner of pedigree - scroll down). Her pedigree was loaded with Schutzhund titled, V and VA rated dogs (including five World Siegers), dogs that had excelled both in the show ring and in Schutzhund work, demonstrating their courage and profiency in obedience, tracking, and bitework. We are grateful we had the privilege of breeding Briska to VA Lärry vom Grapenhof, SchH3, beginning the line we have carried on until now. This year we continue the tradition of fine German bloodlines with puppies from Briska's great-great-granddaughter Kischa vom Treuen Wächter. The sire of Kischa's litter is Prescott's Sherman, great-grandson of the 2X (2008 & 2009) World Sieger VA1 Vegas du Haut Mansard SchH3. We repeated this breeding since her 2014 puppies turned out so nice. These puppies will be APR registered. | |

Thank you to all who purchased puppies from this beautiful litter. The parents were:
Kischa vom Treuen Wächter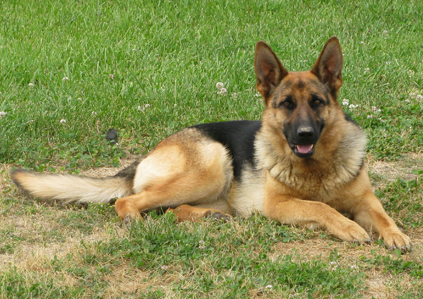 Prescott's Sherman (see complete pedigree below)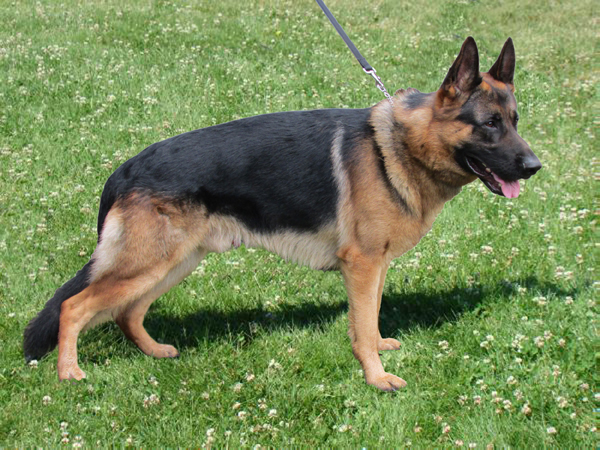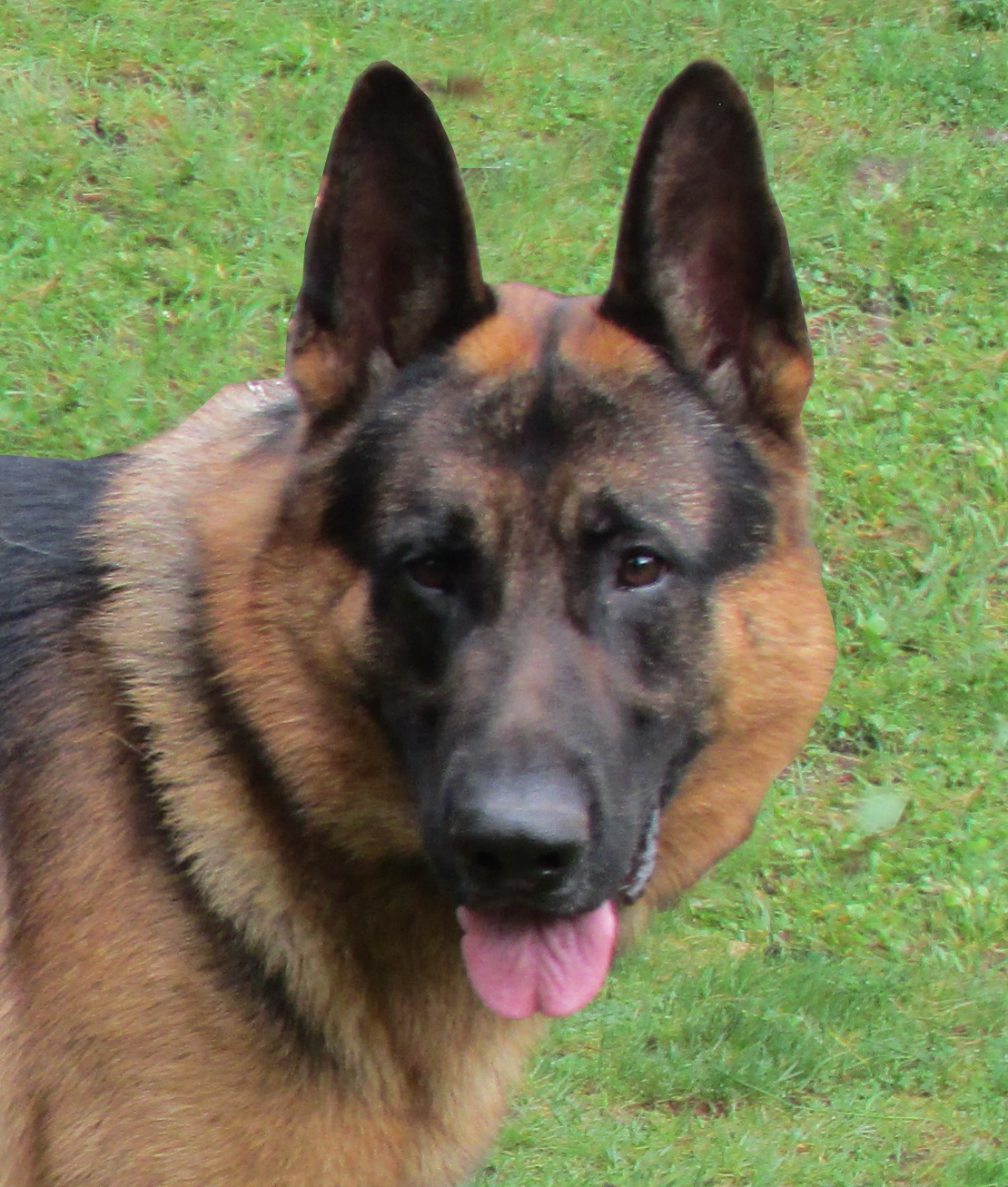 Here is Kischa with her beautiful new babies: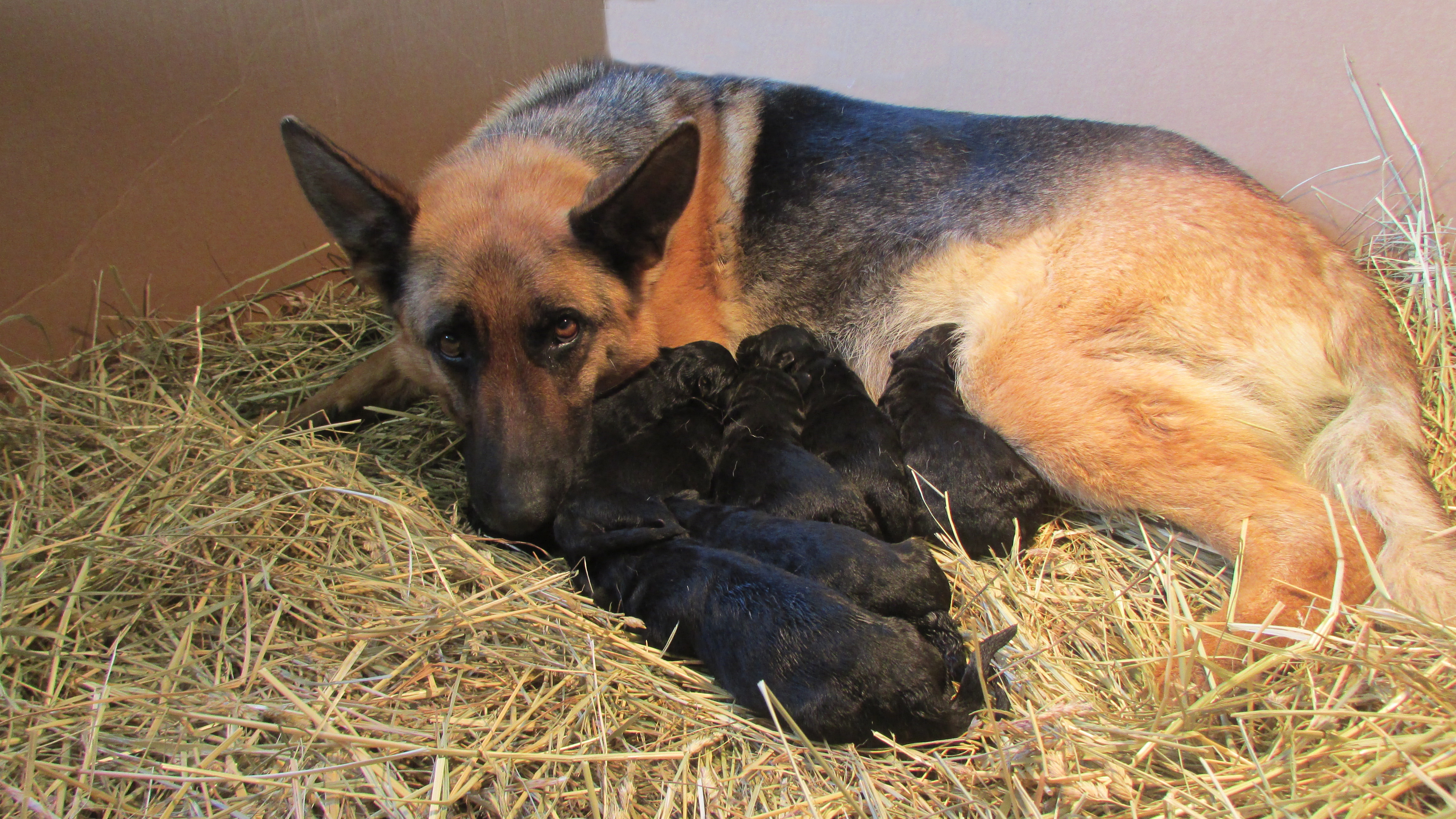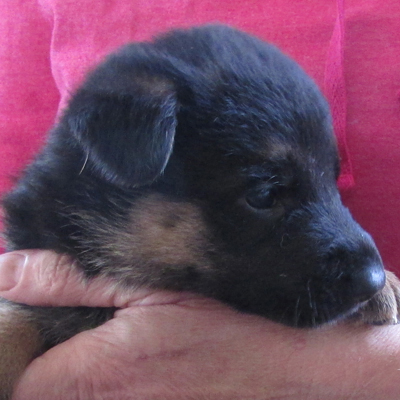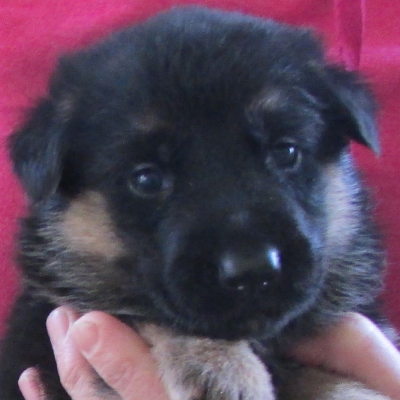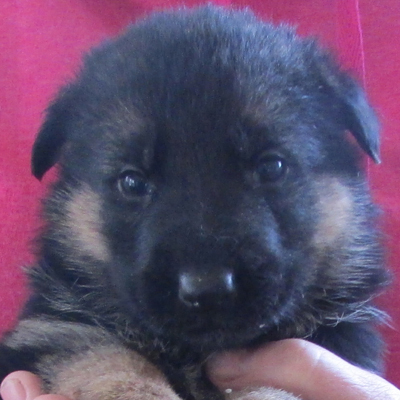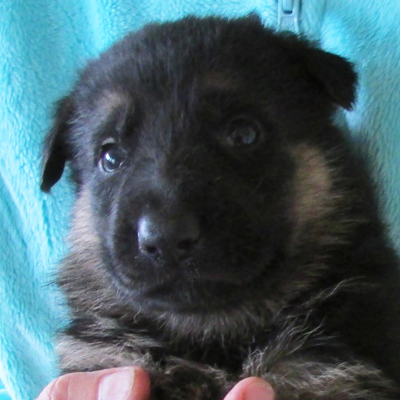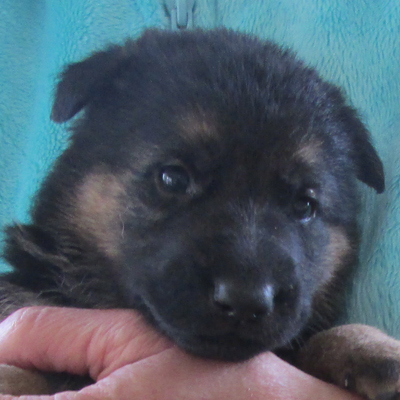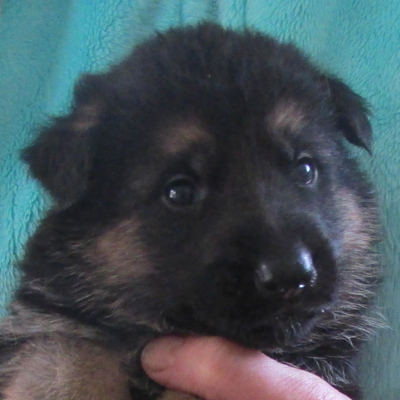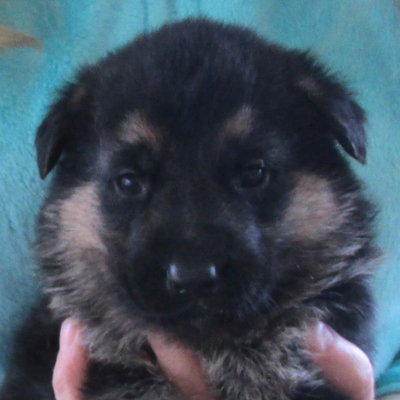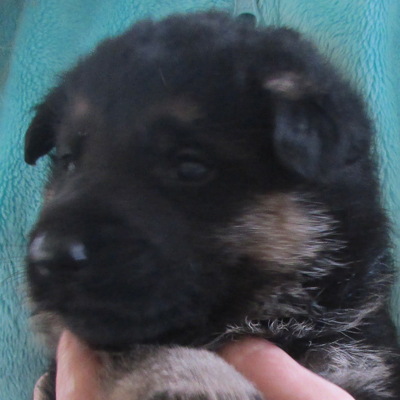 | | |
| --- | --- |
| | Focusing on quality rather than quantity, our German Shepherds are part of our family and raised with much love and attention. They get lots of handling from birth on up, and are raised in a farm setting with exposure to other animals - livestock, smaller dogs, cats, horses, & goats. We breed for correct conformation and especially, a calm, steady, devoted temperament. |

Here is the pup's illustrated pedigree:
Key to German titles and symbols:
SG - Sehr Gut, Very Good; V - Vorzüglich, Excellent; VA - Vorzüglich Auslese, Excellent Select (title awarded at the Annual Sieger Show select class).
SchH, IPO - Schutzhund / Protection dog 1, 2, or 3: Certified in obedience, protection, and tracking. FH - Tracking dog; PH - police dog; HGH - Herding dog; BH - Basic obedience

Grandparents (scroll down)
3rd generation back
4th generation back
5th gen. back



Yasko vom Gold-Berg

DN 2522500





SCHH3
V Bastian vom Real Favorita

SZ 2232094
HD-SV: HD a-normal (a1)





2008 and 2009 World Sieger!

SCHH3
2X VA1 Vegas du Haut Mansard
2004
SZ 2164725
HD-SV: HD a-fast normal (a2


2007 World Sieger


VA1 Pakros d'Ulmental
SCHH3, SZ 2138739


VA2 (F) Rangoon du Haut Mansard
SCHH3, BREVET
LOF 527930/45533


SCHH3
V Roma vom Holtkämper See
2001
SZ 2091920
HD-SV: HD a-normal (a1)


VA6 Wallace aus Agrigento
SCHH3, SZ 2017496


V Wari vom Holtkämper See
SCHH3, SZ 2046950

SCHH1
V Mica vom Gold-Berg
2004
AKC DN10274701
HD-OFA: Good


SCHH3
VA4 Ando vom Altenberger Land
1999
SZ 2070626
HD-SV: HD a-normal (a1)


V17(BSZS 1998) Cary vom Fiemereck
SCHH3, SZ 1928363


Paulina von der Michaelswiese
2001
SZ 2086599
HD-SV: HD a-fast normal (a2)


VA3(SCH) V23 BSZS'00 Noris von Gloria dei
SCHH3, SZ 1992529


V Yassila von der Michaelswiese
SCHH1, SZ 1987952


Wila vom Gold-Berg
2008
AKC DN23259603





SCHH3 B.H.O.T.

2004
AKC DN06897110
HD-SV: HD a-normal (a1)


SCHH3
VA4 Ando vom Altenberger Land

1999
SZ 2070626
HD-SV: HD a-normal (a1)





V17(BSZS 1998) Cary vom Fiemereck
SCHH3, SZ 1928363

SCHH2
VA3 Okawa von der Michaelswiese

2000
SZ 2091686
HD-SV: HD a-fast normal (a2)





VA1(IND) Salo vom Maifeld
SCHH3, IPO3, SZ 2023351


V(BSZS) Nena von der Lentfert Hoeve
SCHH1, SZ 2049304

DN20309301

SCHH3

2 X VA (B + DK) Arko vom Butjenter Land 2003, SZ 2127951
HD-SV: HD a-fast normal (a2)





V10 Flipp von Arlett
SCHH3, PKR 53287


V Rieke vom Butjenter Land
SCHH2, SZ 2050674

SCHH 1

SV 21551448
HD-SV: HD a-fast normal (a2)


V Rocky vom Haus Tepferd
SCHH3, SZ 2106390


V Wenke von der Emsaue
SCHH2, SZ 2072040




Paxton Pete vom Rockshadow
DN 22009705 (3 Photos)




SCHH3 Kkl 1

DN/05446801
HD-SV: HD a-normal (a1)



SCHH3
V Idol vom Brenzarm
2000
SZ 2063154
HD-Normal

VA2(S) SG4 V14(BSZS) Valium von Arminius
SCHH3, SZ 1983105

V Dixi vom Brenzarm
SCHH2, SZ 1971639

SCHH1
V Déjà Vu von Waldhimmel
SZ 0013182
HD-SV: HD a-normal (a1)
Picture of Deja Vu goes here.
To see her photo, click here


VA1 CAN SGR Hillo de Marne la Vallee
SCHH3, SZ 1944658
SG Maxi vom Wiesenborn
SCHH1, SZ 1944862




SCHH2
Urmel vom Hanneß

SZ
HD-SV: HD a-normal (a1)

SCHH 3
V Boss vom Elzmündungsraum
SZ 2075106
HD-Normal

V1 SG6(BSZS) Wallace aus Agrigento
SCHH3, SZ 2017496
HD-SV: HD a-fast normal (a2)

V Quinta vom Elzmündungsraum
SCHH3, IP3, FH1
SZ 1978390, HD-normal

SCHH2
SG Quasti vom Hanneß
V35 Baru von Haus Yü
SchH3, SZ 1972084
HD-SV: HD a-normal (a1)

SG Eva vom Hanneß
SchH3, SZ 1926006
HD-fast normal

Dakota vom Treuen Wächter

(APR reg) 2 photos









Josh LaPierre (2 photos)
AKC DN05286704 blk & tan


Personal Protection
National & International CH

Dugas Zairen Vom Haus CGC
DN/OOO783/02
HD-SV: HD a-normal (a1)


DUTCH POLICE DOG
Pa Shacks Ungar
DKK 26236/94

Xina Vom Grafental
DL 832737/01
She Be A Montana Queen
AKC DL83787403
OFA 45G, Blk & Red
Riot's Smoking Sabre
DL68514005
Treasure Belle
DL55874202




Breena vom Treuen Wächter

(2 photos) (APR reg)
PennHip avg 48


SCHH3, 1998,1999 USA UNIVERSAL SIEGER
V Ory vom Zollernblut
SZ/1869744
HD-SV: HD a-normal (a1)

V63 Werro vom Bergmannshof
SchH3, SZ 1714065
Halla vom Fehntjer Meer
SchH3/FH/IP3, SZ 1763467


Dara vom Treuen Wächter
AKC/Dl70735406
HD-OFA: Excellent



VA Lärry vom Grapenhof
SchH3 Kkl 1, SZ/1863753


V Briska von Fidelius
SCHH1 Kkl 1, SZ/1845920

Here are some pictures of related pups from previous litters...

Above: Dakota (center) with her daughter Kischa on right, and a 2011 puppy on left

Reserve your puppy now -
contact Vom Treuen Wachter German Shepherds:



Please send 20% deposit for each puppy reservation - mail check, M.O., or use Pay Pal (www.paypal.com)
Thank you!

Phone: 541-450-1407
Mailing address: 1252 Redwood Ave. #31, Grants Pass, OR 97527


URL: http://www.ewe2you.com/pups

http://www.graphicdesignbymelissa.com